Side Saddle Tack Trunk.
A great present for someone to protect their valuable side saddle! Surplus to requirements as fits a saddle smaller than 17 inches.
 Bespoke trunk made by specialist manufacturer Trifibre (UK) for travelling with a side saddle. Red finish to exterior, with aluminium protective edging, integrated retractable handle, spring loaded lifting handles to both sides & braked swivel castors. The interior is lined with high density foam & has a strap with quick release plastic buckle, to restrain the saddle from falling out, the void can be used to store a numnah etc. The lid is removable (so the case can go through a horse transporter groom's door) has catches that can be padlocked & a padded pocket to contain accessories, thus protecting them and the saddle.
Approximate empty luggage weight: 19kg (42 pounds), Approximate external luggage size including castors: 71cmh x 57cmw x 63cmd( 28inches h x 23 inches w x 25 inches d)
 The saddle travels vertically when the case is on its castors. If the case is likely to be on its side for any length of time, we suggest you make an additional removable soft foam insert support to fit your saddle. Also you could make a base in the horse transporter to secure the castors of the trunk for each local journey – much safer than travelling the saddle on a saddle rack, or loose on the floor.
 Made 2013, in good condition as never used, original price 365.00 Sterling (500.00 Euros). A fraction of the cost of replacing or repairing a damaged side saddle, reasonable offers considered, to be collected from north Cork. 
Please phone Joanne 087 6348309 for further info.
See below for photos:
Photo of the trunk interior, showing strap and lid pocket for accessories.
Photo of the trunk exterior with handle extended and lid in place for travelling.
Example of an open trunk with saddle inside, secured on base in horse transporter.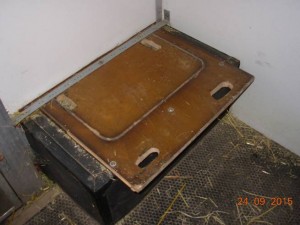 Photo example of a base with holes for trunk castors, to secure the trunk when travelling with horses.